In addition to the Kanmantoo operation, Hillgrove holds over 6,150kms² of granted Exploration Licences in south eastern South Australia which are highly prospective for discovery of economic copper deposits within a variety of geological settings.
The Company's tenements are all located within the Delamerian orogen. In a recent publication by the Geological Survey of South Australia[1], the Survey notes the similarities between the Delamerian Orogen tectonic setting and its high-level granitic to dioriticintrusives in South Australia, with the geology of the large Porphyry Cu-Mo-Au deposits in south-east China (e.g. Dexing, 9.7Mt of Cu metal, 265 t Au)
These observations support Hillgrove's exploration activities in this Orogen for large scale Cu-Au deposits.
The Exploration Licences comprise two geographic groups;
Near Mine which typically lie within a 5km radius of the Kanmantoo Copper Mine (on EL5628). The Stella and North West Kanmantoo are priority targets within the near mine tenement for follow-up.
Regional which covers an area of 5,600 sq. kms of contiguous tenements (EL's 6174, 6175, 6207, 6208, 6294 and 6397) and an area 50kms north of the mine called Mt Rhine / Kanappa (EL 5628), all in the south east of South Australia. These tenements are highly prospective for the discovery of base metal deposits in a variety of geological settings.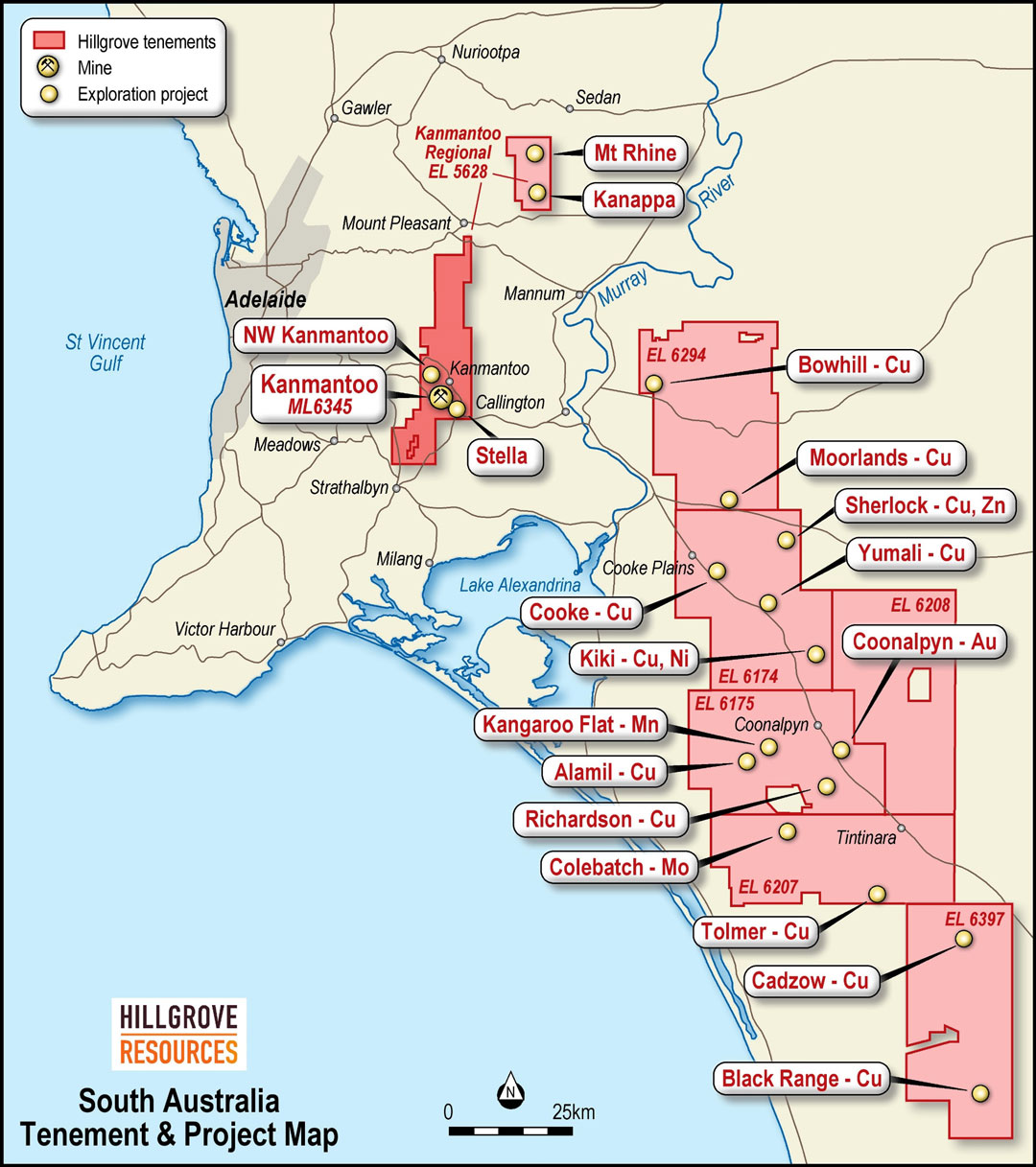 Location of Kanmantoo Copper Mine and regional exploration targets
Stella is located around 1.5 kms south east of the Kanmantoo processing plant. At Stella, Hillgrove has defined a large conductive geophysical anomaly beneath historic drilling which has intersected broad zones of alteration with copper-gold mineralisation. The closest drill hole to the geophysical anomaly KAN001 intersected the following;
3.6m @ 0.39% Cu, 2.43 g/t Au, from 156.4 metres, including 0.9m @ 9.28 g/t Au, 0.18% Cu from 156.4 meters, and
6.56m @ 0.77% Cu, 0.84 g/t Au from 173 metres.
The strong gold endowment within close proximity to Kanmantoo make Stella a priority target for follow-up.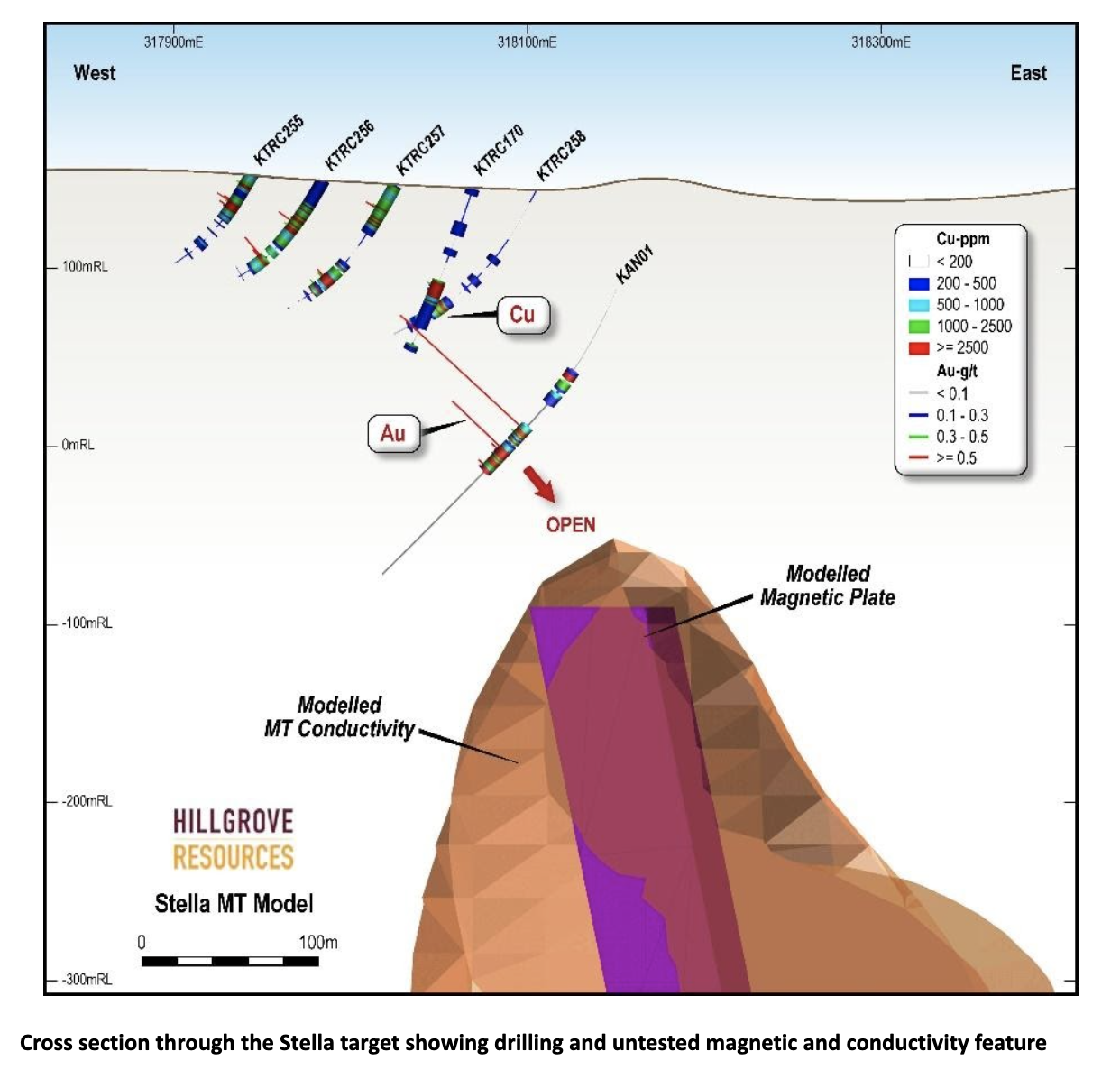 North West Kanmantoo is located 4.5kms north west of the Kanmantoo processing plant and covers a 2.3 km long zone of copper-gold anomalism associated with Fe gossans and breccias.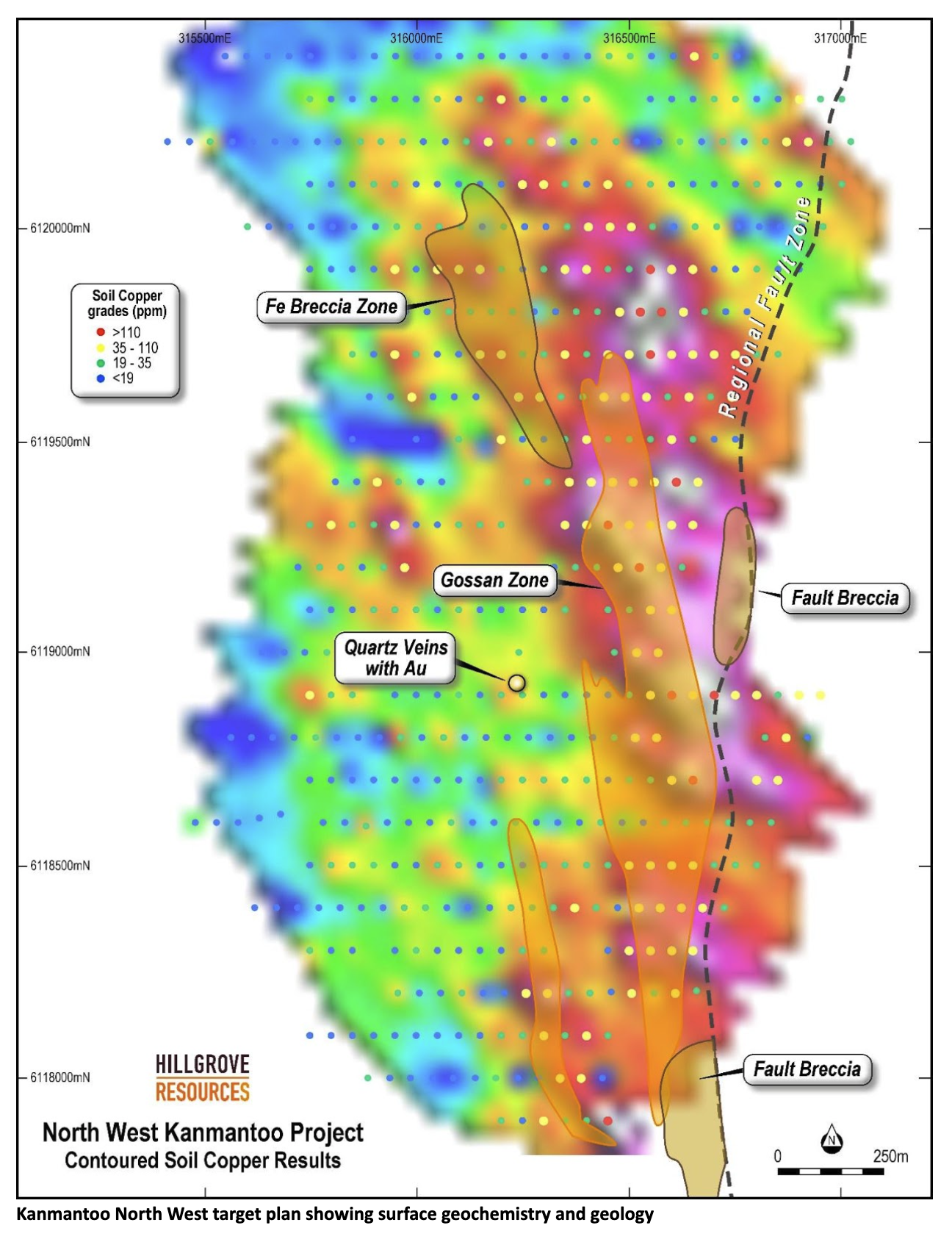 Hillgrove's regional tenements are prospective for a variety of mineralisation styles, including; porphyry, skarn, epithermal and epigenetic copper +/- gold mineralisation with the following examples within the district highlighting this variety;
The recent discovery of porphyry copper and magmatic copper and nickel mineralisation at Stavely's Minerals' Stavely Copper-Gold Project in western Victoria.
Large zones of sulphide mineralisation in past drilling at the Sherlock prospect,
Outcropping copper-molybdenum stockwork veining at Colebatch,
Newly discovered copper - gold skarns at Kanappa and Mt Rhine,
Extensive copper endowment already evident at Hillgrove's Kanmantoo Deposit
The six south eastern tenements of the project lie within an area identified by a joint study of the United States Geological Survey (USGS) and Geoscience Australia (GA) as being a porphyry copper province with stratigraphic and tectonic links with western Victoria's Stavely porphyry copper belt.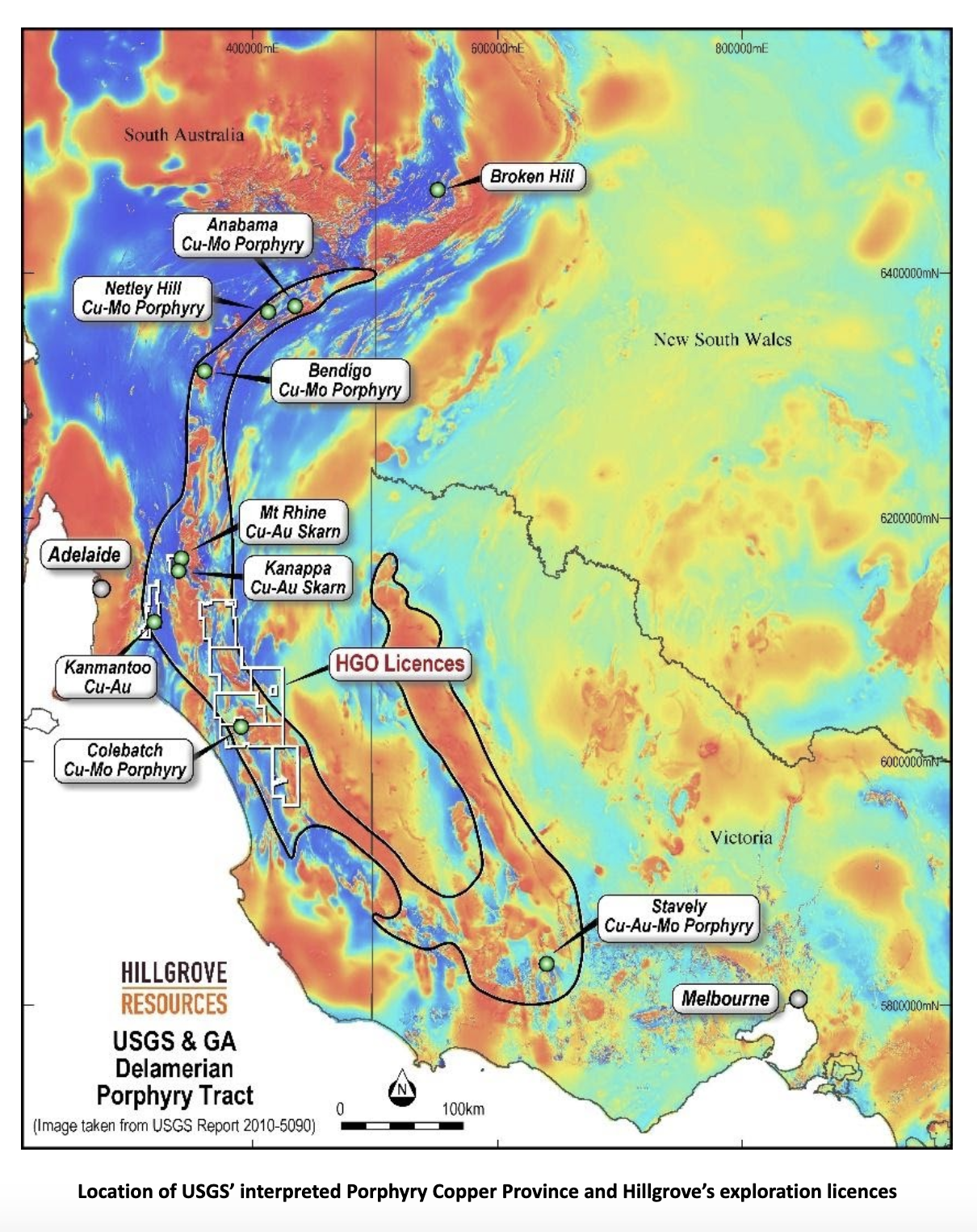 Back to all projects